Description
FULL HD 1080P 120 degree FPV CAMERA
RunCam HD
Especially designed for FPV hobbyists by RunCam,
this mini HD FPV camera provides high image resolution of 1080P@30fps and 720P@60fps.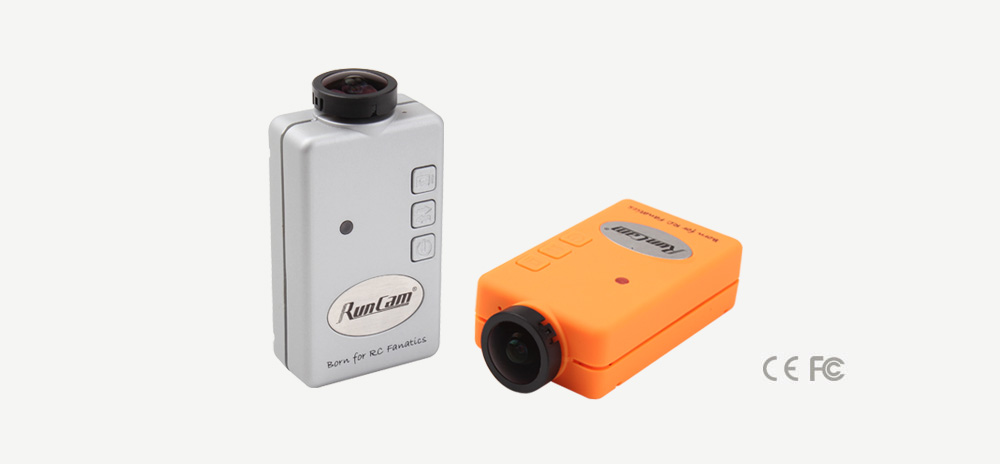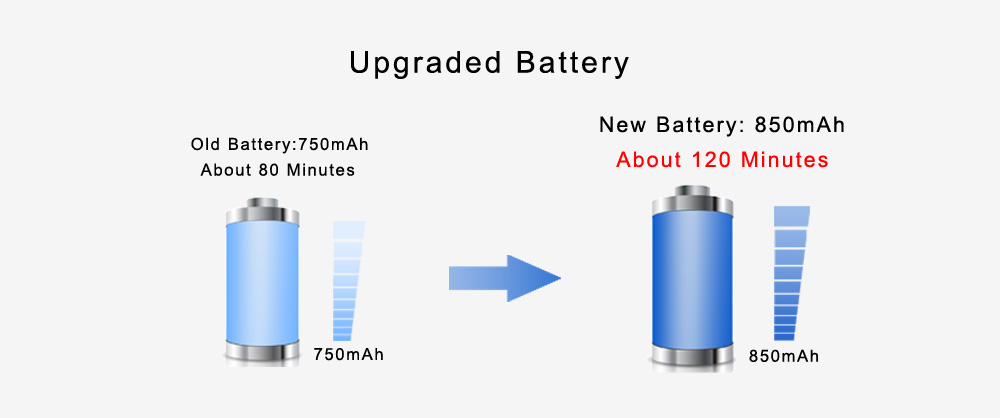 Better And Better
RunCam HD is using Novatek NT96650 DSP,which is low-power
DSP combined with H.264 video compression technology.
It provides FPV enthusiasts with higher quality results on Full HD.
*The battery can last for about 120 minutes.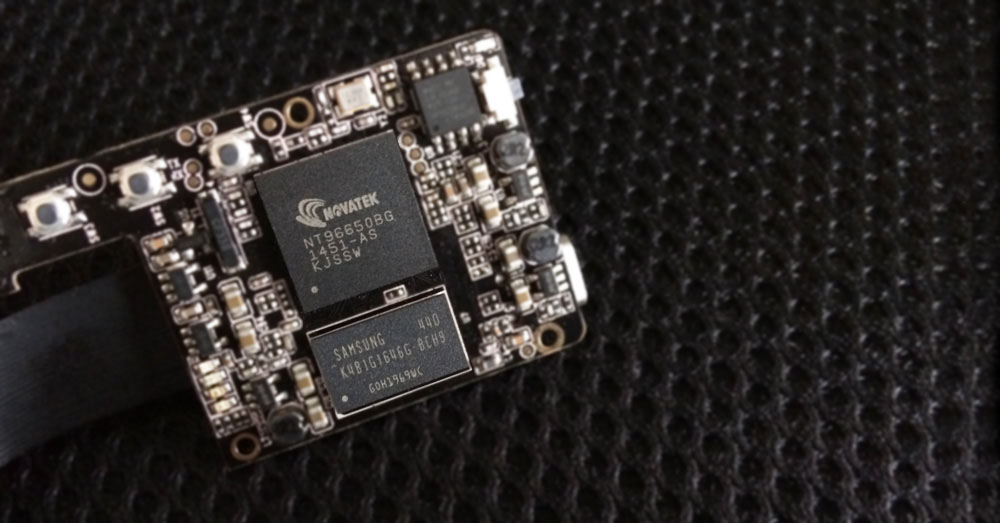 F2.8 Aperture, Fever of pursuing the ultimate
The new F2.8 Aperture lens adopts aspherical glass, which is featured with Higher Sharpness, Less Image Distortion and Less Halo Effect.
Using the different lens coating technology, the new lens delivers more natural and gorgeous image.
It optimizes function of shielding for RF Noise, especially for
some frequency band of communication like GPS and 433 MHz.
It effectively reduces the RF Noise intrusion to other electronic equipment.
Note: For orange version, function of RF noise shielding is invalid.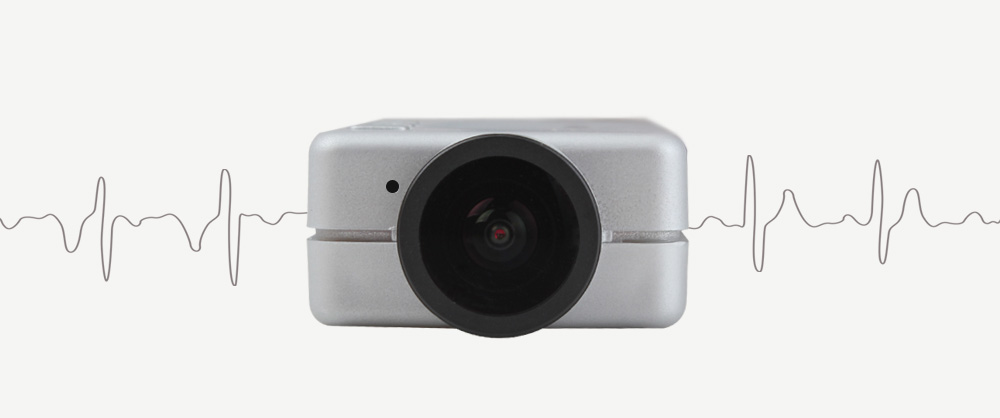 RunCam HD has mini size and light weight (only 41g).
Effectively reduce the carrying weight of RC model aircraft and minimum the wind-drag.
Survival Of The Fittest
Not using traditional plastic, the Mini USB TV-out Cable of RunCam HD is made of
silicone materials. It has been received by the user's praise for
the good feel of it and good tensile resistance.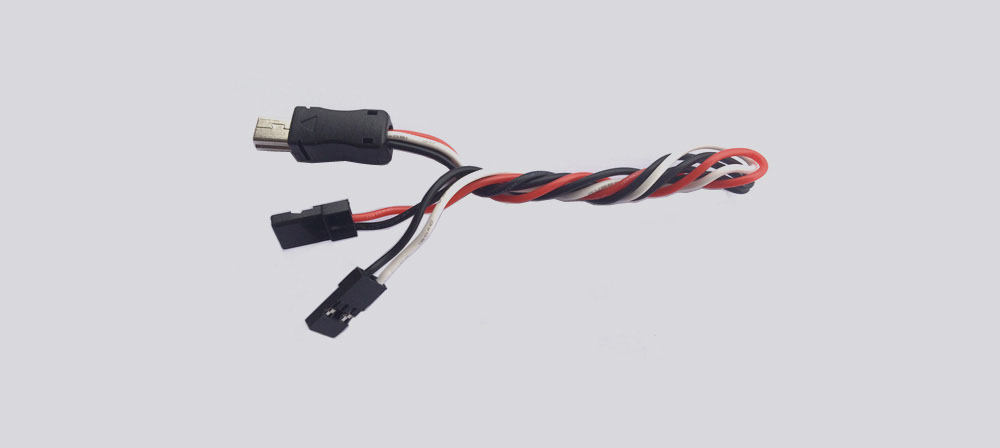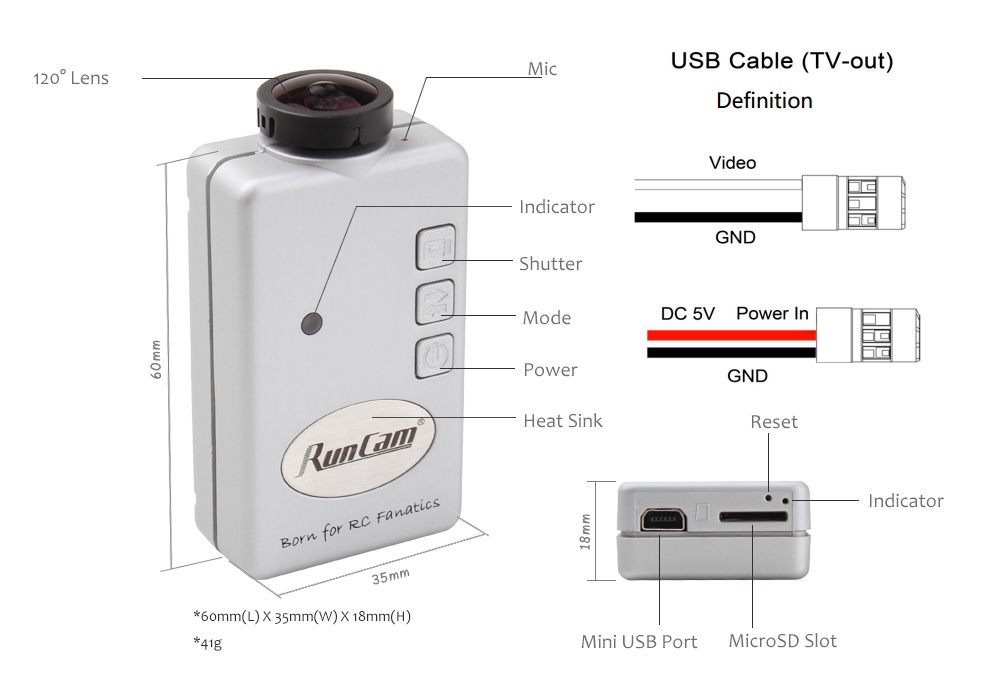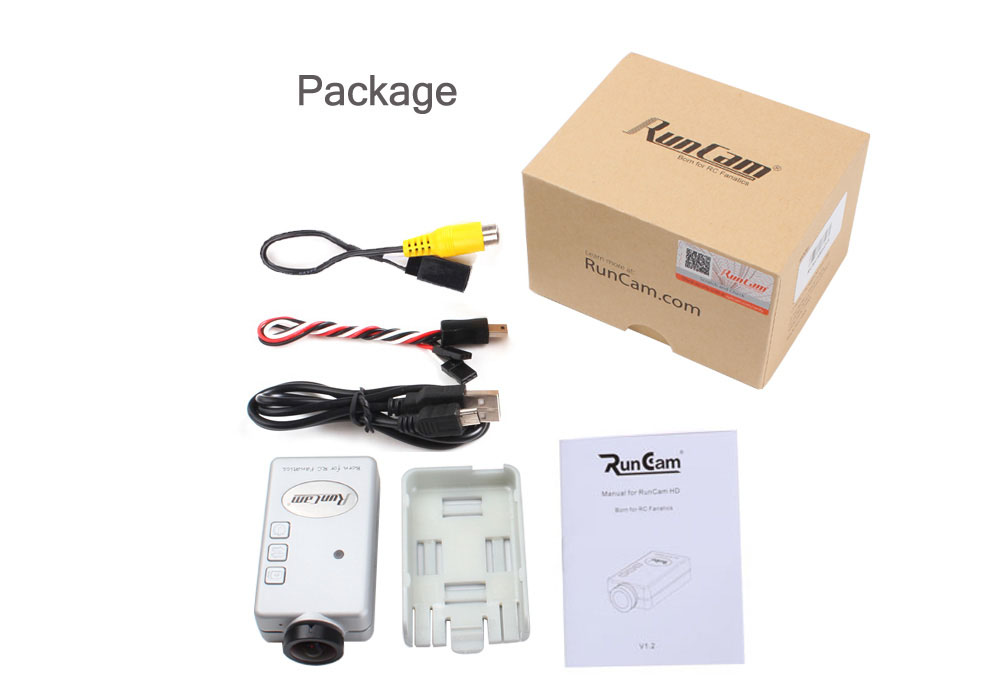 Specifications
| | |
| --- | --- |
| Angle of Field | F.O.V 120° |
| Photo Resolution | 3MP |
| Video Resolution | 1080P 30FPS FULL HD, 720P 60FPS, 720P 30FPS HD |
| Video/photo Files Format | *.MOV / *.JPG |
| Live TV Video Output | NTSC / PAL |
| Interface | Mini USB |
| Max TF Card Supported | 32G(Suggest using Class 6 or above) |
| Image Flip | 180 Deg Roation |
| Weight | 41 g |
| Dimension | 60mm(L) * 35mm(W) * 18mm(H) |
| Rechargeable LIPO Battery | 750mAH |
| Continuous Recording Time | About 80 Minute |
| Working Voltage | DC 5V |
| Working Current | <500mAH |
Video Examples
FAQ
FAQ
Q: Can you provide the instructions about the firmware upgrading and configuration software of RunCam HD Camera?
A: Hi, Please click here to get the details.
Q: Got problems to run the " RunCamTool.exe " file on your Computer?
A: Hi, You need to install Microsoft .NET Framework 4.0 first, please click here to downlaod it.
Q: There is a problem with the config utility, the error message says there is a missing DLL. How to fix this?
A: Hi, Please go to Microsoft here , and to download the 32bit (the first file) or 64bit (the last file) option and install it.
Q: How to comvert the ".MOV" format file to be ".AVI" format?
A: Hi, You can use "MP4Cam2AVI" to convert *.MOV to *.AVI before try editing on movie editor. Please download it from here .
Q: RunCam HD can be used as a WEB Cam?
A: Hi, Please remove the TF card, and connect it to your PC, and then run "amcap.exe". Please download "amcap.exe" from here.
Q: The configuration file that the config software generated is not disappear, what is the problem?
A: Hi, Make sure the file name of the configure file "DCTCONFIG.bin" is never changed. And you put this file into the root directory of TF card. If file name is changed, it wouldn't disappear.
Q: If I switched to 720/60 via the confi software, how I switch back to 1080, if I don't have this option?
A: Hi, When you switch the mode between 720@60 and 720@30, it just change the frame rate under 720P, and wouldn't affect the frame rate of 1080P. Just simply press the camera's mode button (when you see orange light on), you've switched it back to 1080P.
Q: Looks great! What's the weight of the RunCam HD?
A: Hi, About 41g.
Q: Is it possible to change the lens?
A: Hi, The lens angle of RunCam HD is 120 degree, which is not able to change for now. We are trying to select a 100 degree one and will launch later.
Q: I have a regular 8GB menory card. Is it compatible with it?
A: Hi, RunCam HD supports max. 32GB TF card (suggest using Class 6 or above).
Product Reviews
RUNCAM Runs Great 🙂 

Posted by PINAK OZA on 15th Feb 2016

Runcam is really good camera for FPV purpose. Battery lasts long and quality of video is really nice. Having used Mobius so far, I see no big difference between two.
Watch Runcam FPV video here:

https://youtu.be/sBgx8L1MVpI
I am using both on my quadcopter as you can see it here…https://www.youtube.com/watch?v=IJefBO6dge0

Camera excelente 

Posted by Ivan Valle on 16th Jan 2016

Muito boa. Realmente cumpre o prometido!
Muito fácil e rápido de selecionar os modos de filmagens e fotografia.
A camera necessita de cartão de memoria para o funcionamento, por isso compensa ja comprar com um.
Pedi para que declarassem apenas 15 dolares para que a receita tributasse em cima disso e funcionou!

RunCam HD 

Posted by Unknown on 13th Jan 2016

Caméra reçue dans les délais et très bien emballée. Tout y est pour la faire fonctionner, me donne entière satisfaction, montée sur un tricoptère de 50cm d'envergure. Ne semble pas trop sensible aux vibrations.

Much better than expected 

Posted by Unknown on 1st Jan 2016

I own several different "sport" cameras some ridiculously expensive. I like this one the best. Great video quality,easy to mount,easy to use. Durable too has survived a crash that literally destroyed the quad, Runcam still taking great video.

Great Camera 

Posted by Timothy REECE on 20th Dec 2015

Great Camera. Arrived within the promised 2 weeks with free shipping. Image quality is awesome and easy to operate. With the supplied mount it mounted to my Blade 350QX without any modification. Looking forward to getting the Runcam 2. Well worth the money.

worth every € 

Posted by Rick Voort on 11th Dec 2015

Just loved the fact iT arrived pretty fast and is very carefully rapped in a Runcam Box much better than the mobius. And for a dutch Rc freak the orange colour is just the best ffr. Ps. Runcam is Also great in support if you encounter any issue.

THanks for your service a big thumb up

Excellent cameras 

Posted by Phil on 29th Nov 2015

I purchased 9 of these cameras and have attached several to the wings, under the fuselage vertical stabilizer and inside the cockpit of my 1961 Mooney M20 aircraft (real aircraft) and the video is outstanding!

I also use the cameras when not attached to the aircraft as a time-frame security camera to watch the aircraft in my hangar. I can now see every unauthorized person entering and leaving my hangar. If I trigger the 780p to capture a frame once every 2 seconds, I have enough time on a 16GB miniSD card to record nearly two full weeks of surveillance. Nice product.

RUNCAM HD 

Posted by Pavel Derkachev on 19th Nov 2015

Product arrived very fast to Kyrgyzstan (2 weeks by free shipping). Love FullHD quality, mounted on mjx x600 and there's no jello.
Can't wait for RunCam2.

Great little camera 

Posted by JT on 18th Nov 2015

`Got the camera in…. very easy to operate…. works great as my hatcam….. will be straping it to a quad soon to check it out

good image quality 

Posted by h1975 on 17th Nov 2015

nice and light quality camera. Aerodynamic (I use it on a Teksumo wing), great light handling and easy to operate. Wish they would make a 60 fps version of this great little cam!